Game Description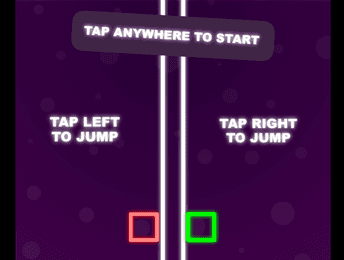 Two Neon Boxes is a puzzle game that combines minimalist design with complex challenges. Developed by Kek Games, this visually stunning game requires players to manipulate colored blocks to solve puzzles and advance through various levels. With its captivating visuals and brain-teasing puzzles, Two Neon Boxes offers a unique and engaging gaming experience.
Game Controls
Before you dive into the world of neon puzzles, let's explore the game controls:
Mobile (Touchscreen) Controls:
Tap and Swipe: Interact with blocks and objects by tapping and swiping on the screen.
PC (Mouse/Keyboard) Controls:
Mouse: Click and drag blocks and objects to interact with them.
Keyboard: Use arrow keys or WASD for movement and interaction.
How to Play Two Neon Boxes?
Two Neon Boxes is all about solving intricate puzzles. Here's a step-by-step guide on how to navigate the neon world:
Objective: The objective in each level is to guide the neon boxes to their corresponding targets. These targets are usually color-coded to match the boxes.
Block Interaction: Click or tap on a neon block to select it. Once selected, you can move it by dragging it with your finger (on mobile) or by clicking and dragging (on PC).
Obstacles and Challenges: As you progress through the levels, you'll encounter various obstacles, including lasers, mirrors, and switches. Use your problem-solving skills to figure out how to navigate around or through these challenges.
Mirror Blocks: Some levels feature mirror blocks that can change the direction of laser beams. Use them strategically to your advantage.
Switches: Switches can be activated by moving a neon block over them. Activating switches may open doors or change the course of laser beams.
Plan Your Moves: Before making a move, consider how it will affect the path of the neon boxes. Planning your moves carefully is key to solving the puzzles efficiently.
Trial and Error: Don't be afraid to experiment and try different approaches. Sometimes, solving a puzzle requires a bit of trial and error.
Advance to the Next Level: Successfully guide all neon boxes to their targets to complete a level. The difficulty increases as you progress.
Tips and Tricks
To excel in Two Neon Boxes and tackle even the trickiest puzzles, consider these tips and tricks:
Plan Ahead: Take a moment to analyze the level and plan your moves before you start moving neon blocks. A well-thought-out strategy can save you time.
Use Mirrors Wisely: Mirror blocks can be invaluable for redirecting laser beams. Experiment with their placement to create the desired path.
Activate Switches Strategically: Don't rush to activate switches. Think about the consequences and how it will affect the puzzle's outcome.
Experiment: If you're stuck on a level, don't hesitate to experiment with different block movements and configurations. Sometimes, a fresh perspective can lead to a solution.
Patience is Key: Some levels may be challenging, but patience and persistence can lead to success. Take your time to solve each puzzle.
Game Developer
Two Neon Boxes was developed by Kek Games, a game development studio known for creating innovative and visually appealing puzzle games. Their portfolio includes a variety of games that engage players with unique challenges and aesthetics.
Game Platforms
Two Neon Boxes is primarily a mobile and web-based game, making it accessible on the following platforms:
iOS: You can download and play Two Neon Boxes on iOS devices such as iPhones and iPads.
Android: The game is also available for Android devices via the Google Play Store.
Web: Two Neon Boxes can be played in web browsers on PC and mobile devices. It's often available on gaming websites and platforms.
How to Play Unblocked
Playing Two Neon Boxes unblocked is straightforward, as it is a web-based game without online restrictions. To enjoy the game without any hindrances, follow these steps:
Open a Web Browser: Launch your preferred web browser on your computer or mobile device.
Search for Two Neon Boxes: Use your preferred search engine to look for "Two Neon Boxes game."
Access a Trusted Website: Choose a reputable gaming website or platform that offers Two Neon Boxes. Websites like Coolmath Games or Kongregate often host unblocked games.
Start Playing: Click on the game's icon or title to start playing directly in your web browser. There's typically no need to download or install anything.
Enjoy the mesmerizing world of neon puzzles and put your problem-solving skills to the test in Two Neon Boxes.
Conclusion
Two Neon Boxes offers a visually stunning and intellectually stimulating puzzle adventure. With its unique blend of minimalist design and intricate challenges, the game keeps players engaged and entertained as they navigate a neon-lit world of puzzles.
So, whether you're a puzzle enthusiast looking for a new challenge or simply seeking a visually captivating gaming experience, Two Neon Boxes is sure to captivate your mind and imagination. Dive into the neon world and embark on a puzzle-solving journey like no other!