Game Description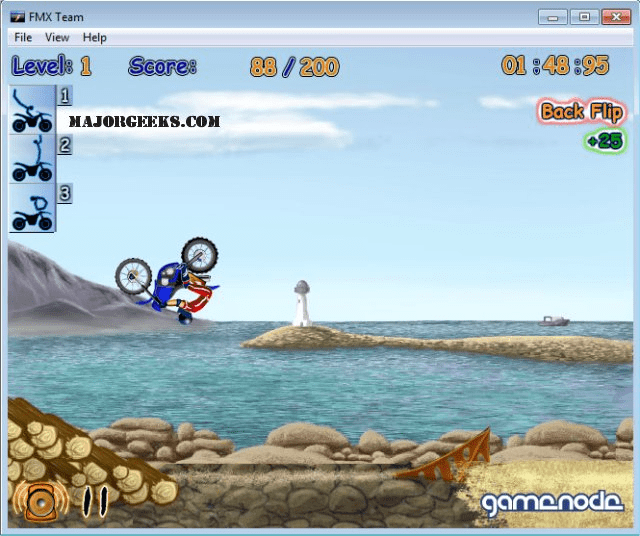 FMX Team is a high-octane motocross game that challenges players to perform jaw-dropping stunts while racing through a variety of challenging tracks. Developed by IriySoft, this game combines the thrill of motocross racing with the excitement of freestyle stunts, offering an engaging gaming experience for motocross enthusiasts and casual gamers alike.
Game Controls
Before you rev up your virtual dirt bike, let's dive into the game controls:
Keyboard Controls:
Arrow Keys: Control the direction and balance of your motocross bike.
Number Keys (1-7): Perform different stunts while in the air.
Spacebar: Activate nitro boost for an extra burst of speed.
P Key: Pause the game.
How to Play FMX Team?
FMX Team offers fast-paced motocross action. Here's a step-by-step guide on how to unleash your inner motocross daredevil:
Select Your Rider: Start by choosing your rider from a selection of talented motocross pros, each with their unique skills and attributes.
Race and Perform Stunts: Navigate your motocross bike through challenging tracks filled with ramps, jumps, and obstacles. Use the arrow keys to control your bike's direction and balance. While in the air, press the number keys (1-7) to execute spectacular stunts.
Nitro Boost: When you need an extra burst of speed to clear a gap or pull off an incredible stunt, hit the spacebar to activate your nitro boost. Use it wisely, as nitro is limited.
Complete Objectives: Each level comes with specific objectives, such as achieving a certain score or landing specific stunts. Fulfill these objectives to progress through the game.
Earn Stars: As you successfully complete levels and objectives, you'll earn stars that can be used to unlock new riders and upgrades for your bike.
Upgrade Your Bike: Spend your hard-earned stars to improve your bike's performance, making it easier to conquer more challenging tracks and execute even crazier stunts.
Master the Tracks: To truly excel at FMX Team, practice is key. Mastering the tracks and perfecting your stunts will help you achieve high scores and unlock additional content.
Tips and Tricks
To become a motocross legend in FMX Team, consider these tips and tricks:
Start Simple: If you're new to the game, begin with easier tracks to get the hang of the controls and basic stunts before attempting more complex maneuvers.
Balance is Crucial: Maintaining balance while in the air is essential for landing safely. Use the arrow keys to adjust your bike's position and avoid crashing.
Nitro Timing: Save your nitro boosts for critical moments, such as clearing long jumps or reaching objectives.
Mix Up Stunts: Experiment with different stunts to earn extra points and style bonuses. Combining stunts in a single jump can lead to massive scores.
Upgrade Wisely: Spend your stars on bike upgrades that suit your playstyle. Whether it's increased speed, better control, or improved nitro capacity, choose upgrades that complement your strengths.
Game Developer
FMX Team was developed by IriySoft, a game development studio known for creating engaging and addictive browser games. Their portfolio includes a range of popular titles that appeal to casual gamers and enthusiasts alike.
Game Platforms
FMX Team is primarily a browser-based game, which means you can enjoy it on a variety of platforms that support web browsers, including:
Web Browsers: FMX Team is accessible on popular web browsers such as Google Chrome, Mozilla Firefox, Safari, and more.
How to Play Unblocked
Playing FMX Team unblocked is a straightforward process, as it is a browser-based game without online restrictions. To enjoy the game without any hindrances, simply follow these steps:
Open a Web Browser: Launch your preferred web browser on your computer or mobile device.
Search for FMX Team: Use your preferred search engine to look for "FMX Team game."
Access a Trusted Website: Choose a trusted website or gaming portal that offers FMX Team. Websites like Kongregate, Coolmath Games, or CrazyGames often host unblocked games.
Start Playing: Click on the game's icon or title to start playing. There is typically no need to download or install anything.
Enjoy performing gravity-defying stunts and racing to victory in FMX Team without any restrictions.
Conclusion
FMX Team delivers heart-pounding motocross action and freestyle stunts, all in the comfort of your web browser. With a variety of tracks, riders, and stunts to master, the game offers hours of thrilling gameplay for motocross enthusiasts and gamers alike.
So, rev up your virtual dirt bike, hit the ramps, and show off your stunts and racing skills in FMX Team. It's time to conquer the motocross world and become the ultimate FMX champion!