Game Description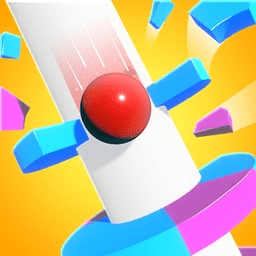 Helix Jump offers a thrilling and visually stimulating gaming experience. Developed by Voodoo, this game combines simplicity with excitement as you control a bouncing ball and navigate it through a maze of rotating helical platforms. The objective is to descend as far as possible while avoiding obstacles and breaking through the tower's colorful layers.
Game Controls
Mastering the game controls is essential for success in Helix Jump:
Touchscreen Controls (Mobile):
Swipe Left or Right: Swipe your finger left or right on the screen to move the ball.
How to Play Helix Jump?
Helix Jump is easy to pick up and play. Here's a step-by-step guide on how to conquer the tower:
Starting Point: The game begins with your ball at the top of the helical tower. Your goal is to descend to the bottom by breaking through the tower's layers.
Rotating Platforms: The tower consists of rotating platforms with gaps. Your ball can pass through these gaps, but be careful not to touch the platforms themselves.
Avoid Obstacles: As you descend, you'll encounter various obstacles, including colored areas on the platforms that you must avoid. Hitting an obstacle will end your game.
Breakthrough: To break through the tower's layers, guide your ball through the gaps between the platforms. As you fall, you'll gain momentum, making it easier to break through multiple layers at once.
Score Points: Your score increases as you descend. The farther you go, the higher your score becomes. Collect bonus crystals along the way to boost your points.
Level Progression: Helix Jump features multiple levels with increasingly challenging tower designs. As you progress, the game becomes faster and more difficult.
Restart and Retry: If your ball hits an obstacle or misses a platform, you can restart the level and try again to beat your high score.
Tips and Tricks
To become a Helix Jump champion, consider these tips and tricks:
Timing is Key: Learn the timing of the rotating platforms and gaps to navigate the tower effectively.
Speed Matters: The faster you descend, the easier it is to break through multiple layers in one go. However, speed can also make it harder to react to obstacles, so find the right balance.
Patience Pays Off: While speed is important, sometimes it's better to take your time and carefully plan your descent to avoid obstacles.
Focus on Gaps: Keep your eyes on the gaps between the platforms; that's where you need to guide your ball.
Practice Makes Perfect: Like many arcade games, Helix Jump rewards practice. The more you play, the better you'll become at navigating the tower.
Game Developer
Helix Jump was developed by Voodoo, a mobile game developer known for creating simple yet addictive games that captivate players worldwide. Their portfolio includes a variety of popular mobile titles that are easy to pick up and play.
Game Platforms
Helix Jump is primarily a mobile game and is available on the following platforms:
iOS: You can download Helix Jump from the Apple App Store and enjoy it on your iPhone or iPad.
Android: The game is also available for Android devices via the Google Play Store.
How to Play Unblocked
Playing Helix Jump unblocked is hassle-free since it's a mobile game that doesn't typically have online restrictions. To enjoy the game without any hindrances, follow these steps:
Mobile Devices: On your mobile device, go to the respective app store (Apple App Store for iOS or Google Play Store for Android).
Search for Helix Jump: Use the search function to find "Helix Jump."
Download and Install: Download the game and install it on your device.
Launch and Play: Open the game and start playing right away, no unblocking needed.
Enjoy the thrilling challenge of Helix Jump and see how far you can descend through the twisting tower!
Conclusion
Helix Jump offers an exhilarating and addictive gaming experience that tests your reflexes and timing. With its simple controls and challenging gameplay, it's no wonder this game has captured the attention of mobile gamers worldwide.
So, take the plunge, guide your bouncing ball through the twisting tower, and aim for a high score in Helix Jump. It's a game that offers endless fun and an opportunity to compete with friends for the ultimate descent to victory!