Game Description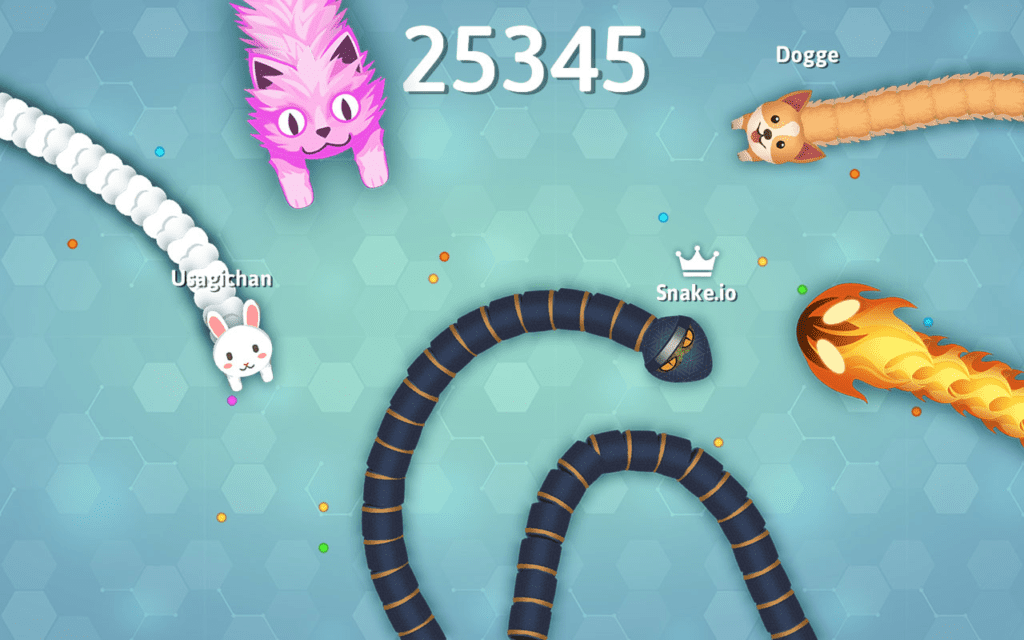 Snake.io takes the simple and addictive gameplay of the original Snake game and brings it to a multiplayer arena. Developed by Kooapps LLC, this game offers fast-paced action as you compete against other players to grow your snake by consuming colorful pellets and defeating opponents. It's a thrilling test of skill, strategy, and reflexes.
Game Controls
Before you embark on your snake-slithering adventure, let's go over the game controls:
Mobile (Touchscreen) Controls:
Swipe: Swipe your finger in the direction you want your snake to move.
PC (Mouse/Keyboard) Controls:
Mouse: Move your mouse cursor to guide your snake.
Keyboard: Use the arrow keys to navigate your snake.
How to Play Snake.io?
The game is easy to pick up, but mastering it requires skill and strategy. Here's a step-by-step guide on how to play:
Start Small: You begin the game as a tiny it. Your goal is to grow larger by consuming colorful pellets scattered throughout the arena.
Avoid Collisions: Be cautious not to collide with other snakes, the arena's walls, or even your own tail, as this will result in the end of your snake's journey.
Consume Pellets: Move your game over pellets to eat them. The more pellets you consume, the longer your snake becomes.
Eliminate Rivals: If you see a smaller it, try to cut it off and force it to collide with your body. This will cause it to disintegrate into pellets that you can consume for more growth.
Strategic Maneuvering: Plan your moves carefully to trap other game or make a quick escape when necessary.
Be the Biggest: Your objective is to become the largest it in the arena. This is achieved by outlasting other players and growing to an impressive size.
Leaderboard Dominance: Keep an eye on the leaderboard to see how you rank compared to other players. Aim to reach the top spot by being the longest.
Tips and Tricks
To become a snake master in the game, consider these tips and tricks:
Stay on the Move: Keep your snake in motion to make it harder for opponents to trap you.
Cut Off Opponents: When you're larger than another snake, use your size to your advantage by encircling them and forcing a collision.
Tail Chasing: Occasionally, encircle your own tail to create a barrier against pursuing it.
Consume Rival's Remains: After eliminating an opponent, quickly consume the pellets left behind to maximize your growth.
Map Awareness: Be aware of the arena's layout, as it can help you plan your movements strategically.
Game Developer
The game was developed by Kooapps LLC, a game development studio that focuses on creating entertaining and engaging mobile games. The game is one of their successful titles that has captured the attention of mobile gamers worldwide.
Game Platforms
The game is primarily available on mobile devices. Supported platforms include:
iOS: You can download the game from the Apple App Store and enjoy it on your iPhone or iPad.
Android: The game is also available for Android devices through the Google Play Store.
How to Play Unblocked
Playing the game unblocked is a breeze since it's a mobile game and doesn't typically have online restrictions. To enjoy the game without any hindrances, follow these steps:
Mobile Devices: On your mobile device, go to the respective app store (Apple App Store for iOS or Google Play Store for Android).
Search for the game: Use the search function to find the game.
Download and Install: Download the game and install it on your device.
Launch and Play: Open the game and start playing right away, no unblocking needed.
Enjoy the addictive, competitive world of the game with players from around the globe.
Conclusion
The game brings the classic the game into the modern age with multiplayer action and colorful visuals. Whether you're looking for a quick gaming session or a competitive challenge against players worldwide, the game offers hours of slithering fun.
So, jump into the arena, outmaneuver your rivals, and aim to be the biggest and longest snake in the game. It's a game that combines simplicity with strategy, making it a delightful and addictive experience for players of all ages.