Game Description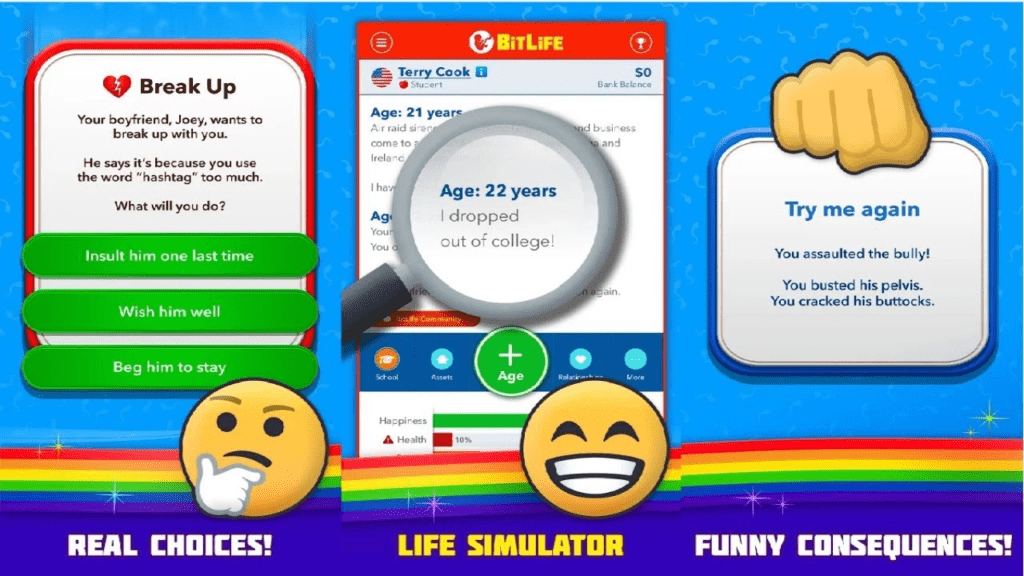 BitLife Simulator, developed by Candywriter, LLC, offers a unique and immersive experience where you can make decisions that impact your virtual life. Start as a newborn and navigate through various stages of life, from childhood and adolescence to adulthood and old age. The game allows you to explore different paths and outcomes based on the choices you make.
Game Controls
The game controls in BitLife Simulator are straightforward:
Touchscreen Controls (Mobile):
Tap: Tap on the screen to make choices and interact with the game's elements.
Keyboard Controls (PC):
Keyboard: Use the keyboard to type responses and make choices.
How to Play BitLife Simulator?
BitLife Simulator is all about making choices and experiencing the consequences. Here's a step-by-step guide on how to play:
Birth and Name: You start as a newborn baby. Name your character and choose their gender.
Choices and Events: Throughout your virtual life, you'll encounter various events and decisions. These can include school choices, relationships, careers, and more.
Decision-Making: At key points in the game, you'll be presented with choices. Read the options carefully and select the one that best suits your goals or preferences.
Life Stats: Keep an eye on your character's health, happiness, smarts, and looks. These attributes can impact your choices and opportunities.
Aging and Events: As your character ages, different events and opportunities will arise. These can include education, jobs, relationships, and even criminal activities.
Relationships: You can form relationships with other virtual characters, including family, friends, and romantic partners. Your interactions with them can have a significant impact on your life.
Achievements: The game offers various achievements and milestones that you can aim to accomplish. These can range from having a successful career to maintaining a happy family.
Legacy: Your character's life will ultimately come to an end, and you'll see a summary of their accomplishments and choices. You can then start a new life or continue the current one.
Tips and Tricks
To succeed and have an exciting virtual life in BitLife Simulator, consider these tips and tricks:
Set Goals: Decide what you want to achieve in your virtual life. Whether it's becoming a millionaire, having a successful career, or starting a family, having goals can help guide your decisions.
Balance Your Stats: Keep an eye on your character's attributes (health, happiness, smarts, and looks). Try to maintain a balance to open up more opportunities.
Education Matters: Pursue education to unlock better job opportunities and career paths. It can also lead to higher earnings and greater success.
Manage Relationships: Building and maintaining positive relationships can lead to a happier and more fulfilling life. Treat family, friends, and partners well.
Financial Planning: Save money and invest wisely to secure your financial future. Making smart financial choices can lead to wealth and success.
Stay Out of Trouble: While the game allows you to explore different paths, be cautious about engaging in criminal activities, as they can lead to negative consequences.
Game Developer
BitLife Simulator was developed by Candywriter, LLC, a game development company known for creating engaging simulation games. BitLife has gained immense popularity for its immersive life simulation experience.
Game Platforms
BitLife Simulator is primarily a mobile game but can also be enjoyed on web browsers. Supported platforms include:
iOS: You can download BitLife Simulator from the Apple App Store and play it on your iPhone or iPad.
Android: The game is also available for Android devices via the Google Play Store.
Web Browser: BitLife Simulator can be played in web browsers on PCs and Macs by accessing online versions.
How to Play Unblocked
Playing BitLife Simulator unblocked is easy, especially if you're playing it on a web browser. Here's how to enjoy the game without restrictions:
Open a Web Browser: Launch your preferred web browser on your computer.
Search for BitLife Simulator: Use your search engine to look for "BitLife Simulator online" or "BitLife Simulator unblocked."
Access a Trusted Website: Choose a reputable website or gaming portal that offers the game in an unblocked format. These websites often host unblocked versions of popular games.
Start Playing: Click on the game's icon or title to start playing directly in your web browser. There's typically no need to download or install anything.
Enjoy the immersive experience of BitLife Simulator and make choices that shape your virtual destiny.
Conclusion
BitLife Simulator offers a unique and engaging virtual life experience where your choices shape your character's destiny. Whether you aspire to be a wealthy entrepreneur, a loving parent, or an adventurous globetrotter, BitLife lets you live out your dreams and see the consequences of your decisions.
So, embark on a journey of self-discovery and adventure in BitLife Simulator, where every choice you make leads to a new and exciting chapter in your virtual life.