Game Description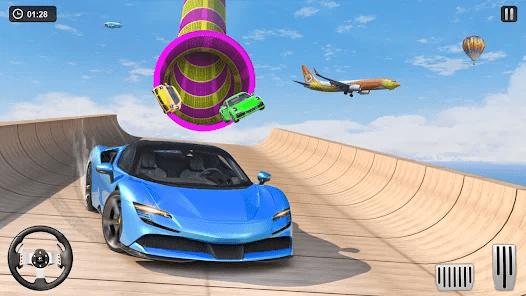 Crazy Cars is an iconic racing game that was originally released in 1987 by Titus Interactive. It features high-speed racing, a variety of cars to choose from, and challenging tracks. The game has since gained a cult following for its classic arcade-style gameplay.
Game Controls
Before you rev up your virtual engine, let's go over the game controls:
Keyboard Controls (PC):
Arrow Keys: Steer your car left or right.
Spacebar: Accelerate.
Ctrl Key: Brake.
Shift Key: Boost or nitro (if available).
Esc Key: Pause the game.
Mobile Controls (Touchscreen):
Tilt: Tilt your device left or right to steer.
Touch: Tap and hold on the screen to accelerate.
Release Touch: Release to brake or slow down.
On-Screen Buttons: Some mobile versions may have on-screen buttons for controls.
How to Play Crazy Cars?
Crazy Cars offers straightforward racing gameplay. Here's a step-by-step guide on how to get in the driver's seat:
Select Your Car: Start by choosing your preferred car from the available options. Each car may have different stats, such as speed and handling.
Choose Your Race: Pick a race track or mode to participate in. You can choose from various tracks, including city streets, highways, and off-road circuits.
Race to Win: Once the race begins, use your steering controls to navigate the track. Accelerate to gain speed, and use the brake when needed to avoid obstacles or collisions.
Power-Ups and Nitro: Some versions of Crazy Cars feature power-ups and nitro boosts. Collect power-ups to gain advantages, and activate nitro for a burst of speed.
Compete and Finish: Race against AI opponents or the clock to reach the finish line. Finish the race as quickly as possible to earn the highest score and progress through the game.
Win Trophies and Upgrade: As you complete races and challenges, you may earn trophies and rewards. Use these to upgrade your car's performance or unlock new vehicles.
Master the Tracks: Each track may have its unique challenges and obstacles. Learn the layouts and perfect your racing skills to become a champion.
Tips and Tricks
To dominate the tracks in Crazy Cars, consider these tips and tricks:
Master the Controls: Get a feel for the controls, whether it's keyboard steering or tilting your mobile device. Precise control is essential for successful racing.
Use Nitro Strategically: If your car has nitro, use it strategically on straightaways or to gain an advantage over opponents.
Avoid Collisions: Collisions slow you down and can cost you precious time. Aim for clean, obstacle-free racing.
Learn the Tracks: Familiarize yourself with the race tracks to anticipate turns, obstacles, and opportunities for shortcuts.
Upgrade Your Car: As you earn rewards, invest in car upgrades that match your racing style, whether it's speed, handling, or nitro capacity.
Game Developer
Crazy Cars was developed by Titus Interactive, a video game development company that produced a range of games across different genres. While Titus Interactive is no longer active, their classic titles like Crazy Cars remain popular among retro gaming enthusiasts.
Game Platforms
Crazy Cars was initially released for various home computer systems, including the Amiga, Atari ST, and MS-DOS. Over the years, it has been emulated and made available on multiple platforms. Supported platforms include:
PC (Emulators): You can play Crazy Cars on modern PCs using emulators that support classic systems like Amiga and MS-DOS.
Mobile Devices: Crazy Cars has been adapted for mobile devices and is available on both iOS and Android platforms.
How to Play Unblocked
Playing Crazy Cars unblocked on a PC is relatively straightforward if you have access to emulators or online game repositories. Here's how you can enjoy the game without restrictions:
Emulators: Download an emulator compatible with the system that Crazy Cars was originally released on (e.g., Amiga or MS-DOS).
Game ROM: Find a legitimate and legal Crazy Cars game ROM file online. Ensure you download it from a reputable source to avoid legal or security issues.
Open in Emulator: Launch the Crazy Cars ROM file using the emulator you've downloaded.
Play: You can now enjoy Crazy Cars on your emulator without any restrictions.
Please note that downloading and using ROMs may be subject to copyright laws in your region. Ensure that you only download and use ROMs for games that you own or have obtained legally.
Conclusion
Crazy Cars is a classic racing game that has stood the test of time, offering thrilling arcade-style racing action. Whether you're a fan of retro gaming or just looking for some high-speed excitement, Crazy Cars has you covered. So, get behind the wheel, rev up those engines, and race your way to victory in this iconic racing title!