Game Description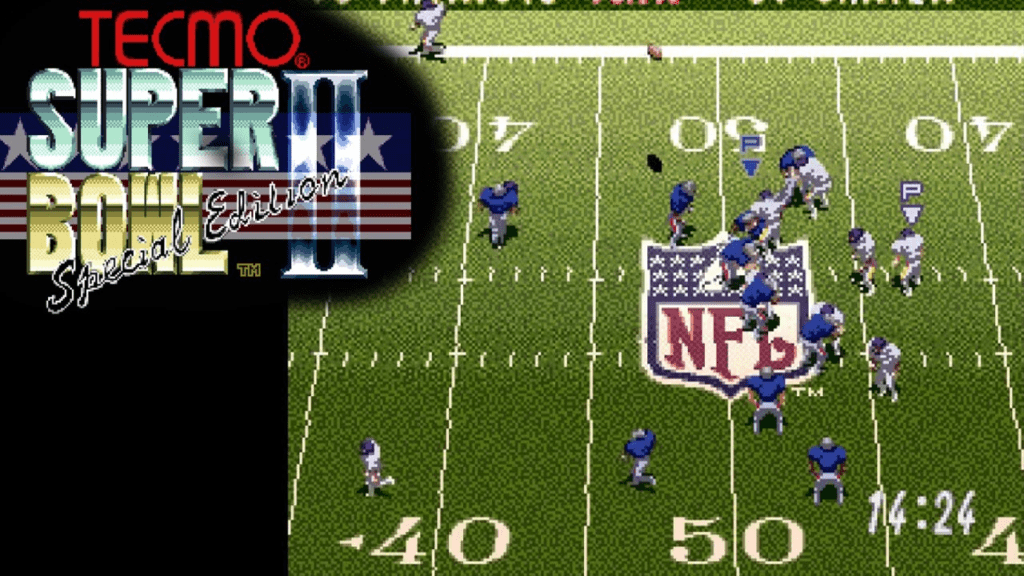 Tecmo Super Bowl II – Special Edition (USA) is a beloved entry in the Tecmo Super Bowl series, known for its authentic NFL teams and players from the early 1990s. Developed by Tecmo, this game offers an immersive football experience with fast-paced gameplay, strategy, and memorable moments. It's a must-play for both retro gaming enthusiasts and football fans.
Game Controls
Before you lace up your virtual cleats, let's dive into the game controls:
NES (Nintendo Entertainment System) Controls:
Directional Pad: Move your player.
A Button: Choose plays (offense) or control a specific defender (defense).
B Button: Snap the ball (offense) or tackle (defense).
How to Play Tecmo Super Bowl II – Special edition (USA)?
Tecmo Super Bowl II – Special Edition offers an exciting football experience. Here's a step-by-step guide on how to jump into the action:
Select Your Team: Start by choosing your favorite NFL team from the available options. Each team boasts its unique strengths and weaknesses.
Choose Plays: As the offensive player, select your desired offensive play by pressing the "A" button. On defense, pick your defensive formation and control a specific defender.
On the Field: Control your players using the directional pad. On offense, use the "B" button to snap the ball to the quarterback. On defense, use the "B" button to tackle the ball carrier.
Offense: Execute your chosen offensive play by running, passing, or using special moves. Make precise passes, rush for touchdowns, and put points on the board.
Defense: As a defender, your mission is to stop the opposing offense from scoring. Control your player, make tackles, and strive for turnovers through interceptions and fumbles.
Special Moves: Certain players possess unique abilities or special moves. Utilize these skills to gain an advantage on the field.
Win the Game: Outscore your opponent by executing plays effectively on both offense and defense. Strategy and precision are your allies.
Tips and Tricks
To excel at Tecmo Super Bowl II – Special Edition, consider these tips and tricks:
Select Plays Strategically: Choose plays that align with your team's strengths and exploit the opponent's weaknesses.
Timing is Crucial: Perfect the timing of your passes, tackles, and special moves to gain the upper hand.
Utilize Star Players: Make the most of star players with exceptional abilities, such as speed or accuracy.
Defensive Mastery: Predict your opponent's moves and control the right defender to make crucial tackles and interceptions.
Study the Playbook: Familiarize yourself with your team's playbook and learn which plays work best in different situations.
Game Developer
Tecmo Super Bowl II – Special Edition (USA) was developed by Tecmo, a renowned Japanese video game company with a rich history in the gaming industry. Tecmo Super Bowl II – Special Edition showcases their commitment to delivering top-notch sports gaming experiences.
Game Platforms
As of my last knowledge update in September 2021, Tecmo Super Bowl II – Special Edition (USA) was primarily available on older gaming platforms and emulators, rather than as a standalone app on iOS and Android. However, please note that game availability can change over time, and developers may have released mobile versions or adaptations of the game since then.
To determine if Tecmo Super Bowl II – Special Edition (USA) is now available on iOS and Android, I recommend checking the Apple App Store and Google Play Store. Simply search for "Tecmo Super Bowl II – Special Edition" or a similar query to see if there are any official mobile app versions or similar football games inspired by Tecmo Super Bowl.
Additionally, you can visit the official website or social media channels of Tecmo or any associated game developers for updates and announcements regarding platform availability.
How to Play Unblocked
Playing Tecmo Super Bowl II – Special Edition unblocked is straightforward, as it is an older game without online restrictions. Here's how to play unblocked:
Emulators: Download an NES emulator for your PC or mobile device. Numerous free and legal emulators are accessible online.
Game ROM: Find a legitimate and legal Tecmo Super Bowl II – Special Edition (USA) ROM file online. Ensure you download it from a reputable source to avoid legal or security issues.
Open in Emulator: Launch the Tecmo Super Bowl II – Special Edition (USA) ROM file using the NES emulator you've downloaded.
Play: You can now enjoy Tecmo Super Bowl II – Special Edition (USA) on your emulator without any restrictions.
Please note that downloading and using ROMs may be subject to copyright laws in your region. Ensure that you only download and use ROMs for games that you own or have obtained legally.
Conclusion
Tecmo Super Bowl II – Special Edition (USA) continues to shine as a cherished classic in the realm of football video games. Its combination of strategic gameplay, authentic NFL rosters, and unforgettable moments from the early 1990s make it a standout title in the genre.
So, whether you're a fan of vintage gaming seeking a dose of nostalgia or a gamer eager to experience the excitement of early '90s football, Tecmo Super Bowl II – Special Edition (USA) offers a thrilling and timeless gridiron experience. Get ready to call your plays, make your moves, and leave a legacy on the virtual field!